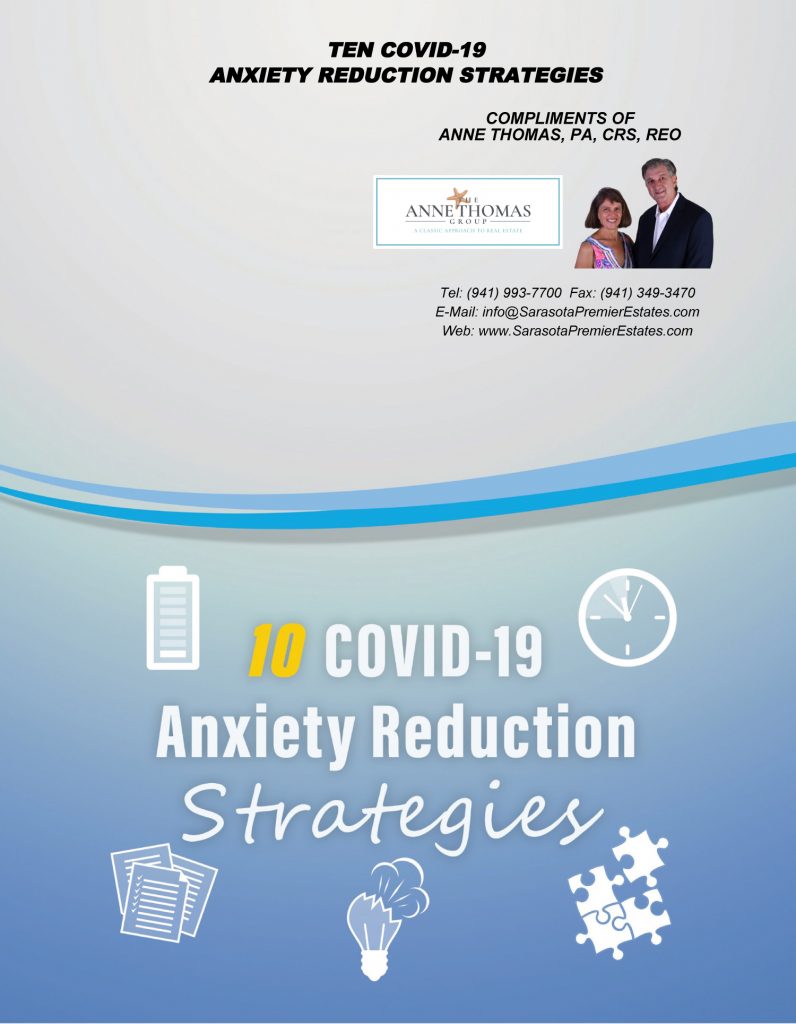 Media Distancing: To stop the spread of anxiety, we must occasionally distance ourselves from the media. The media's 24/7 coverage of the Corona virus is virtually all negative. The more anxious you feel, the more you should distance yourself. If you're extremely fearful, stop watching and reading altogether.
Do Not Engage with Worry. Take Action: When your mind tries to bait you into worry, don't take the bait. Instead, find creative ways to get through this storm. Push yourself to take one uncomfortable step at a time. With financial stress, this might include a loan, asking for help, paying portions of bills or cutting back on spending.
Focus on Present Odds: The vast majority of people infected with COVID-19 have mild to moderate symptoms or no symptoms at all. And the mortality rate if you do contract the virus ranges from 1.4% to 3%. The number of deaths will continue to climb and yet, the chance of you or a loved-one dying is still remote, especially with everyone's effort to maintain distance and isolate.
Do Not Overreact to Common Symptoms: If you cough, it does not mean you have COVID-19. Allergies, bronchitis, postnasal drip, and the cold are more common and a more likely explanation.
Focus on Being Productive and New Skills: Organize a messy room, clean the garage, edit the photos on your phone, etc. You can also learn a new skill or start a new hobby from videos on YouTube or various apps and websites. Put your attention on creating and accomplishing, not on the virus or being unemployed.
Engage in Stress Reduction Activities: Focusing on gratitude, exercising your body, and relaxing your mind will help give you peace. Guided meditation, yoga, exercise, and a gratitude journal are all practices that lower stress. Select one or two, learn about them so you do them correctly, and practice each day.
Do Not Go Beyond CDC Guidelines: Compulsive hand washing, taking off all of your clothes before entering the house, and isolating indoors are anxiety's guidelines, not the CDCs. Check the CDC for appropriate measures.
Preserve Some Sense of Normalcy: Be creative. Instead of exercising at the gym, workout inside your home or your neighborhood. Have dinner with friends over video chat or watch a movie together with a sync-watching app. Maintaining a semblance of normalcy will help reduce anxiety.
Be Kind to Yourself and Others: Reaching out to relatives and friends who are isolated or in need will boost their spirits and yours. If you are unemployed or your business is suffering, your new job is to weather this storm as best as you can until it passes. It always passes.
Seek Out Professional Help: You don't need to do this alone. If you are experiencing an escalation of anxiety, talk to a professional who can help you through this difficult time. Almost all therapists are using telehealth, so you are not limited to professionals in your area. Medication for anxiety, depression, and insomnia might also be needed and can be prescribed by a psychiatrist or your primary care physician.
As your local real estate professional, I am committed to the health & safety of your community and pleased to keep you abreast of the changing situation and help you navigate the challenges. If you're thinking of buying or selling during this turbulent period, or if I can provide any type of information or assistance, don't hesitate to give me a call. Stay healthy.